Maybelline Limited Edition Gilded in Gold Collection
Color Tattoos, and it wasn't until reader crissypo left a comment on
the Sightings Map post
(thanks again for that, Crissy!) that I found two of the three shades in this collection. I still haven't been able to find
Just Beige
, which seems to be the most popular shade in this collection...maybe someday!
So in case you've been thinking about hunting for these, I thought I'd give you my two cents about how they've been working for me...
Two of the Maybelline Limited Edition Gilded in Gold Collection Color Tattoos
(retail: around $6.99 each, 0.14 oz)
260 Matte Brown, 250 Nude Pink
Matte Brown, Nude Pink
First let's start with Matte Brown: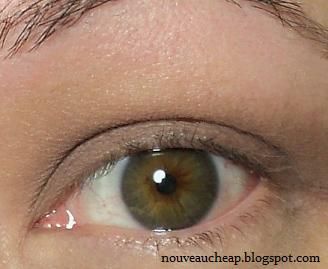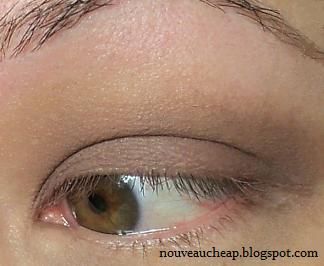 I applied
Matte Brown
with my fingers in the photos above, and I did not apply any type of primer beforehand. This shade looks like a cross between cocoa brown and taupe on my eyes, and I love it even more than I thought I would when I first posted pics of it. It really brings out the green in my hazel eyes, and I love that it's not too dark and not too light.
The consistency is nice--it's smooth and doesn't go on too patchy (unless you wait too long to blend it out, in which case it WILL get patchy). I've also applied this shade with an eyeliner brush, as eyeliner, and it works great for me that way too.
This is one of those shades that can be worn easily on its own on a light makeup day, and also as a primer for brown and taupe shadows. If you're a cocoa brown or taupe fan, I think you might like this one quite a bit.
Next up, Nude Pink: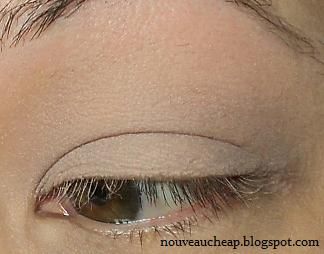 Nude Pink
really helps cancel out the discoloration on my lids, in a way that's even better than some of my favorite eyeshadow primers. This shade looks like a neutral cream with slight pinkish-gray undertones on my skintone, and it doesn't look nearly as pink on me as it does in the pot (I'm so thankful for that, since I normally can't pull off pinks near my eyes).
I applied
Nude Pink
with my fingers in the photos above, and I did not apply any type of primer beforehand. The consistency of this shade is even better than
Matte Brown
. It's super creamy, easy to blend and you can easily go back and build for more pigmentation, if you wanted to, without it becoming cakey or patchy.
I don't like wearing this shade by itself because, on my particular skintone, it does nothing to really enhance my eyes. BUT, I absolutely love it as primer. Again, look how it cancels out my discoloration! It provides such a nice base for just about every powder shadow I own. So versatile!
FINAL VERDICT:
Both of these shades are a home-run for me, and I almost hate to say that since I know how hard it's been for some of you to find this collection in your area. But don't give up hope! I've been hearing from more and more readers over the past week who have, rather unexpectedly, stumbled across new, full displays in their areas. So they just might be coming to a drugstore near you soon. If you see them, and you're drawn to either of these colors, I wouldn't hesitate to pick them up. They're both extremely versatile and, even if you don't like how they look when worn alone, they both make great primers for powder shadows. They both keep my powder shadows crease-free and vivid for a full work day, no problem.
Have you found the Gilded in Gold Collection in your area yet? Did you grab any of the Color Tattoos? I would love to hear from you!
Remember:
I have a
sightings map here
, if you're still looking for these. And if you have found them in your area, please consider leaving a marker on the map to help out your fellow readers!
The products featured in this post were purchased with personal funds. For more information, click
here
.

Finally, right? I literally stalked my local drugstores for the