The Body Shop
often runs 40% off sitewide sales (they're running one
RIGHT NOW
through 4/6, actually!), I thought you might like some reviews of recent purchases I've made. So to start this mini-series, today I'm reviewing the Brazil Nut Body Mist, which I purchased during a previous 40% off sale.
The Body Shop Brazil Nut Body Mist
(retail: $12, 3.3 oz)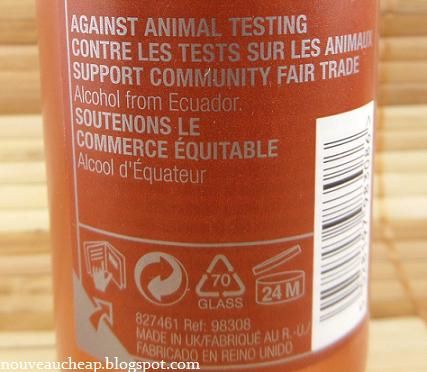 I've mentioned before that I tend to love fragrances with a "nutty" note to them, and since I adore The Body Shop's Brazil Nut Body Butter (the old version--they changed the scent last year), I figured I'd give this one a shot.
I like this but I don't love it. To my nose, it smells like pancakes with maple syrup, mixed with a bit of cotton candy and caramel. That's exactly how it smells during its opening, but after it dries down it does become a little bit richer. After about ten minutes on my skin, the nuttiness comes out a bit, but it's never that deep, rich nuttiness that I enjoyed so much in the old Brazil Nut Body Butter. Overall, this is a playful, light, gourmand fragrance--it's not complex, dark or rich and it doesn't have a strong, pronounced nuttiness to it.
This fragrance stays very close to the skin--there's minimal projection (none at all if you apply it lightly). After about ten minutes on my skin, I find that I have to hold my wrist right up to my nose in order to get a whiff of it. So in that respect, it's probably good for those who work in an office or other tight quarters--you definitely won't be leaving a trail wherever you go. Staying power is quite weak--I can't get over an hour from this scent unless I apply it quite generously (including a few spritzes in my hair, which does help with lasting power).
FINAL VERDICT:
If you love gourmand fragrances that smell like pancakes, maple syrup, caramel and/or cotton candy, you might enjoy this one. If you were hoping for a rich, nutty fragrance like the old Brazil Nut Body Butter, I think you might end up a bit disappointed by this body mist. To me, this is more of a dessert-in-a-bottle type fragrance, which isn't a bad thing--it's just not what I was hoping to get from this particular product. If you're still interested, just remember that this is a light fragrance with weak projection and staying power, so be prepared to reapply often. I think it could be fun for fall/winter because of its "coziness" but it's just not what I was expecting it to be.
Do you own any of The Body Shop's body mists? What are some of your favorites?
The products featured in this post were purchased with personal funds. For more information, click
here
.

Since